Attended a website launch recently and was asked to 'bring a plate'. Thought these would make for a  nice alternative to a dip platter.
Plastic or glass cups
3 Red Capsicum, deseeded and cut into julienne
1.5kg carrots, peeled and cut onto julienne
8 sticks celery, cut lengthways into thin slices
8 Lebanese cucumbers, cut in half lengthways, then cut in half again. If the slices are too thick, then cut in half one more time
1kg dip of your choice. I used cucumber and garlic dip here, but spinach, capsicum, hummus would all be yum too!
Put some dip in the base on each cup
Cut all veggies to similar lengths so that they just stick out of the cups
Arrange veggie pieces in each cup
Refrigerate until required
Makes around 40  cups (200ml capacity)
Arrange cups on a nice platter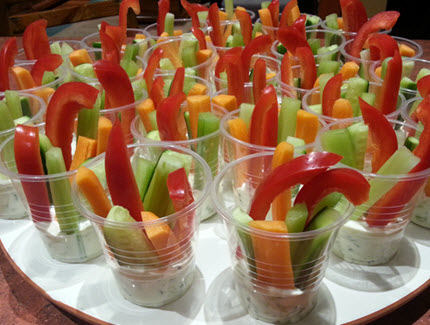 -> These are best served in wide based, low cups – otherwise it's difficult getting to the dip. The cups I used in the image were a bit too tall
-> Be creative – use any combination of veggies you like
-> Veggies can be cut earlier in the day and stored in the fridge in an airtight container and made up into cups when ready to serve